Inside the Mind of Social Designer Jesse Thomas [ Video ]
Like This Tech Leader Interview? Get the Daily RSS Feed!
Read the Full Jesse Thomas Interview at Mashable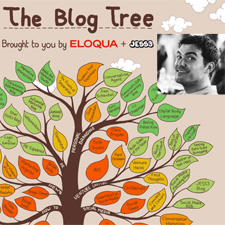 Jesse Thomas is living the interaction designer's dream.
He's been working under his own self-hung shingle (JESS3) longer than he ever worked internally or at an agency, and his client roster includes impressive names such as NASA and Nike.
He works with top tech competitors such as Google and Microsoft, and he's also the guy that Facebook tapped for their 500-million-user commemorative project, Facebook Stories. He gets to mastermind the design concepts that shape the web apps used by people all around the world, all without ever having to worry about internal politics or site metrics.
M: So, how do you get to be Jesse Thomas?
JT: "I work 24/7/365," he told us in a recent chat. "I have no social life. I don't drink like my friends do.

"I'm also really lucky."

In addition to that luck, Thomas is a hell of a hustler who counts the newly crowned MySpace president Mike Jones as his mentor. "Did you notice that footer link on Facebook Stories?" He pointed it out. "An agency link on a permanent section of Facebook… That wasn't an accident."

Here's the nearly complete transcript of our interview; enjoy, and let us know your thoughts about Thomas, JESS3 and his work in the comments.

The Interview
Mashable: Excellent job on the Facebook 500-million-users project.

Jesse Thomas: What a great opportunity, right?

M: Have you done work with Facebook before?

JT: Yes, branding work for f8 and confidential projects. We do a ton of work for Mike Jones at MySpace. Mike is my mentor.

[We're] doing a ton with Foursquare; we are getting all our clients badges and pages and then building mini sites with the API.

Microsoft loves us. For years we have been working directly with Microsoft's public sector groups.

And, my favorite client of all… NIKE! We working with them on a number of confidential projects. I'm sure you understand how tricky it is for an agency like mine to work with a mega brand like Nike.

We also work with brands via agencies, so we know how to navigate those waters… We get love from Main Street to Madison Avenue.

Mashable: So when you say "we," who else is working with you? Weren't you a solo once upon a time?

JT: I have 15 full time employees, 30+ part time and 100+ freelancers. We have a UK office. We are a UX shop, and we also do animation and installations. We are known for data visualization.

At one time, it was just me! But I'm hoping it will be like Ogilvy, the name will live on past me.

And when I say installations, I'm talking about social media-themed art shows and corporate work… Typically these walls start as a pimped-out Twitter wall, but we push for Foursquare, Flickr, etc.

JESS3 Gmail Making Of Video from JESS3 on Vimeo.

M: How long did it take you — roughly how many years — to get to this level?

JT: I'm 28, I was in design school when I was 22.

I was at Aol [from May to December in 2007], and I had this opportunity to go to Asia with AIGA on a lecture tour. So I left Aol and hired two guys, my director of tech and an illustrator, full time.

Everyone loves good work, and social media is tricky. We get the jobs no one thinks they want.

We see all the time agencies that pitch digital strategy, but the CEO or the managers don't like social media and technology or they are green at using it, which I find lame beyond belief, to the point I set up shop to win work from them.

They are asleep at the wheel! And they outsource the best projects, the most crucial parts.

I was hustling mega new business while at all my jobs, on the side.

M: And you really do get to do all the creative interface design without having to worry about the aftermath/metrics, right?

JT: Exactly. Never ever ever. That's the client's problem. We follow directions. We are like the mercenaries; we don't care who we fight for or why.

M: So, you've also worked at agencies a bit in the past — what was that like?

JT: It's a place to learn, like bootcamp. If your agency doesn't feel like bootcamp, it's because they suck, and you probably do too.

Basically, working at an agency is like being a slave or at a frat your first year. You have to have thick skin and learn every minute of the process.

M: How hands-on are you personally with these projects?

JT: I lead every project. Every single one. These are all my babies. I find the talent. I close half the new business.

People tell me I'm a slave driver. I know what I want.

If a client wants something stupid, that's OK. They are like the guy with a broken arm at the hospital asking for cocaine. You have to, as a doctor, say "No" … It's very risky the bigger the clients get.

Agencies call that reckless. I call it shooting from the hip

M: Do you envision going on like this, at this rate, indefinitely?

JT: So we are building a number of products in our labs, silly things like oil.jess3.com and much more serious money making products. We do 10% of our work in labs, 90% for clients.

I'd like to flip that… more like a company that begins to be known for products, and that would hopefully trump the brand itself… It's all about patents. We have a few patents pending, and if I had more money, I'd be buying up patents relating to our stealth products, one of which is in the online advertising space.

So we would becomes the next GE or IBM. We are talking about world domination here!

JESS3 / The State of The Internet from JESS3 on Vimeo.

Read the remainder of this interview at Mashable

$withcomments=1; ?>