Invixis Founder Chris Potoski Part Two [ Interview ]
Like This Tech Leader Interview? Get the Daily RSS Feed!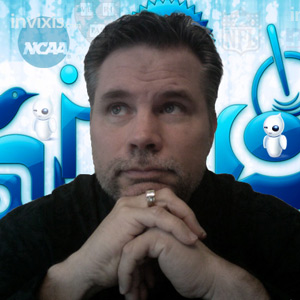 Talk Teck:
After our initial interview with you back in December, we decided to do some digging. There was something about you that intrigued us. You are not the typical "tech guy." Often although not always a technology leaders past and path follow a predictable pattern; high school geek turned college genius turned internet sensation.. think Twitter, Facebook, Google and many others. But sometimes the path toward success is a bit more ….. "colorful" and interesting. So after doing some digging we were pleased to find that your past & path are anything but typical.
So today we would like to focus on that past & path. We thank you for your willingness to share.
Chris Potoski:
It's a pleasure to be back and thrilled to find out that I'm "colorful!" Although I'd be interested to understand your definition of success.. not sure I have achieved that yet.  Right now I'm a broke guy with big ideas. < everyone laughs  >
TT:
So tell us about your childhood? < everyone laughs > What we want to do today is somehow chronicle your path from Eagle Village to Merchant Who. We hear a lot of stories that go from the MIT's to internet stardom but relatively few .. actually none that have gone from juvenile detention to biotech exec to internet success. I think it is this "path" that makes your personality so interesting. So how about we start with: How is it that you came to speak at homes for troubled youth?
CMP:
So yeah.. my path has not been typical < everyone laughs again >. Without going all the way back, I spent the majority of my junior high and high school years in the care of " The State of Michigan " at a facility called Eagle Village. I actually have fond memories of Eagle Village and the people there. I still button the top buttons of my shirts when I hang them up and when I think about the Emig family or Reed City High School, it brings a smile to my face.
Statistics for juveniles who are in the "Care of the State" are bleak. For example only 12% ever graduate high school and over 61% end up in jail. So to go from Eagle Village to college graduate was fairly rare accomplishment. I was proud of that accomplishment and desired to give something back. I wanted .. and still want "troubled youth" to understand that they do not have to be lumped into these bleak statistics. There is hope & limitless opportunity.
Part of this "giving back" included a series of speaking engagements where I spoke directly to the youth. It's one thing for a counselor to speak to these guys, it's another thing for them to hear from someone who sat where they are now. I really have a heart for their situation(s).
TT:
We appreciate your willingness to share and applaud your involvement.
CMP:
It's my pleasure.
TT:
Although we would love to go back even farther, lets press forward. How did you end up in college and did you study technology?
CMP:
So after I was discharged from Eagle Village I was put on a state program called independent living. Essentially I was considered an adult by the state. They provided me an "allowance" and a terrific "social worker" named Bob Kozlowski. Other than that I was pretty much expected to make my own way.. which I truly enjoyed! Because I needed to work, finishing traditional high school was challenging. I received my GED and decided I was either going to college or into the military. One of the few colleges in the state of Michigan that would accept a student with a GED was Ferris State University.
I applied .. and was turned down…. numerous times! Rather than accept defeat I moved to Big Rapids MI, lived in a rented room and showed up at the admissions office every single day. I don't recall her name but there was one remarkable lady who eventually let me in on a probationary term for a summer semester. The rest is history. I eventually transferred from Ferris State to Central Michigan University and graduated with a 3.8 GPA and a double major in Phisiology & Psychology. I also began my masters courses.
As far as studying technology, keep in mind, I'm 40. So at the time I was in college there really wasn't much in the way of formal training in technology. State of the art at that time was Word Perfect and DOS. Microsoft Word as we know it today wasn't even released until 1995. The only true formal training in technology came through the study of math and engineering. Something I may go back and study for fun someday.
TT:
So what happened after college?
CMP:
Well, I met my bride and best friend in college and we were married before I graduated. And yes we are still happily married to this day. On the very day of graduation we left the ceremony, hopped into a Ryder Truck, still in my cap n gown and moved to Florida. Because of my independent living status, I was able to obtain a number of grants and student loans to help pay for college. I worked nearly full time throughout and more than full time in the summers. So unlike many, as a college graduate I actually had some money in my savings. Not much but close to 15k. My wife and I were determined to spend it all before we started "our careers". We unpacked the Ryder truck into our apartment in Ft. Lauderdale and headed to Mexico.
We took close to four months and backpacked through the country. It still remains the greatest experience of my life. We are still friends with locals we met on that trip. And yes… we spent every penny.
TT:
I'm jealous! So now you find yourself back in Florida, newlyweds, broke and no jobs. What happened from that point?
CMP:
Like so many times in my life, I just buckled down and did what needed to be done… I went job hunting! I picked up a series of books entitled: "Knock Em Dead" which covered everything from writing resume's to interviewing and set out to find my first "real job."
Call it luck, divine intervention or karma but my early career found me at the right places at the right times. It also helped that I am a natural extrovert and am willing to outwork anyone. Gary Player once said "The harder I work, the luckier I get " … that's me. I feel like most people I meet, especially in technology are "smarter" than I am, but I will out-read, out-study, and out-work anyone to become one of the best. I'm terribly self competitive.
This "luck" coupled with hustle placed me in an area of healthcare that was somewhere between biotechnology and the business of disease management. Regardless of what you called it.. it was new and the playing field was level. It did not matter if you had one year of experience or 20 we were all learning and starting from square one. This is where that self competitive nature of mine benefited me. It wasn't about the money, I wanted to be looked upon as one of the most knowledgeable people, an expert if you will in my field. From sports to business, as a kid through adulthood, I have always been this way.
In the short period of time from 1995 – 2003, I went from a phone based sales position at Weatherby Healthcare to the Vice President of Development at NHC, the country's preeminent disease management company. The truth is that responsibility was more than my 30 years could handle. The presentations to large crowds, executives at publicly traded companies and boards from prestigious universities didn't phase me. I excelled at that. But I was ill equipped to deal with the stress and in March of 2004 I collapsed with a heart attack.
It was this event that caused me to re-evaluate what I was doing and led me toward the slower paced, less stressful technology industry < laughter erupts >.
TT:
So let me get this right, in order to relax you decided to become a technology entrepreneur?
CMP:
<Mr. Potoski laughs > Sort of. My cardiologist found that this was a stress induced event which left no permanent damage to my heart muscle. He did encourage me to consider a career change. For the previous three years I flew an average of 240 flights a year and was home about 9 days a month. It just got to be too much. I resigned from NHC and "cashed out" which for a 33 year old left my wife and I with a reasonable investment egg and zero ideas for what we wanted to do.Ultimately we decided to start a company called Grapevine Greetings, which created custom wine labels for special events as well as a commercial line which served essentially as greeting cards for wine bottles. Think of it this way, you are at a wedding reception and there is a bottle of red and white wine on each table. The label would feature a photo of the bride and groom along with a greeting or some personal sentiment. The commercial line consisted of wine tags and labels that featured wine related quotes and a place for your own personal message and signature. That way the person receiving the bottle would always know who gave it.
The B2B was great, meaning we were doing well with wedding planners, wine shops etc. but we had no real ability to expand beyond what we could personally service. The revenues simply were not there to hire a sales team & this was our first attempt at building a business. Additionally, our online B2C business was non existent and we didn't understand why. We spent nearly $12,000 for a website, something we knew nothing about and everyone exited on the first page .. which was gorgeous.
What we learned was that this gorgeous website was nothing more than giant images.. huge.. averaging almost 2mb a piece… all linked together. In 2004 high speed access predominantly via DSL was just gaining a foothold so those on AOL, Earthlink, Juno and most others simply could not get our site to load.. thus the challenges.
We began networking here in Raleigh NC and were introduced to some people who truly "knew" how to develop and market websites. They developed a new Grapevine Greetings site for us and then.. came to us with a proposal.
To make a long story short, what they proposed was lucrative but required investment…. it was also in the adult entertainment industry. After careful deliberation my wife and I formed and funded a new company and set out on this new.. and wild adventure. It did not take long before it made little to no sense keeping Grapevine Greetings alive. The revenues in adult were simply unreal.
From late 2004 to 2008, I went from knowing only Word, Excel & Powerpoint to understanding .php, html, java and more. Where I truly excelled however was in my ability to achieve solid rankings and market dominance in the search engines. To this day, I can look at code and understand what it is.. or should be doing, but I cannot write an application from scratch. But give me a keyword or set of keywords and in a week, I'll make you smile.
By 2008 we had a domain portfolio of over 1000 domains and sold it off piece by piece.
TT:
If it was doing so well why sell it off?
CMP:
That is a terrific question. By 2008 our company had gone through tremendous change as had the industry. The atmosphere in the industry as well as the market became contentious and quite frankly it started living up to it's reputation. Questionable billing practices, our own versions of the "Napster" issues and the beginnings of the financial collapse. As a company dependent on consumer credit .. the writing was on the wall.
At the same time I was paying a lot of attention to this odd phenomenon called "social media." Myspace was at it's pinnacle and it was in 2008 that Facebook took the #1 spot. To say it fascinated me would be a huge understatement. I was…. and in some ways…. still am obsessed. It's the first time I have been in the middle of a game changing "shift" like this.
Where Myspace, Facebook, Twitter and the like do macro-social exceptionally well, I see huge opportunity in micro social or local social.
And that's why we reinvested everything back into the development of Invixis Media Systems, the Site Rhythm Platform and ultimately MerchantWho.com
TT:
Do you think that your experiences with the adult entertainment industry will limit your opportunities in "the mainstream"?
CMP:
"Mr Potoski" chuckles, So, I have been asked this quite a bit in private circles but have never actually been asked in an environment such as this, I actually appreciate the question. And the short answer is "possibly".
Mind if I expand the thought?
TT:
Please do!
CMP:
Here is the thing people should be willing to accept because it is factually based… Adult entertainment drove online innovation. So as an innovator and someone interested in learning how to market, monetize, structure and build online experiences why wouldn't I learn from the industry who pioneered online technology.. and profits. There are a number of articles in such " racy publications" such as USA Today, CNN , The Huffington Post and Wired with headlines that read " In the tech world, porn quietly leads the way "
Let me put it another way.. If I want to learn about the hamburger business, I'll go to McDonald's Hamburger University or go to work at Five Guys. If I want to learn the pizza business I'll go to work for Domino's. From 1997 – 2003-ish if you wanted to learn about making money online the leader was the adult industry.
TT:
When you put it that way I almost feel embarrassed for asking the question. Is there anything else you would like to say about the topic?
CMP:
Well , first of all please don't feel embarrassed. It's a legitimate question and one I am not embarrassed about. I feel fortunate to have learned from the pioneers.
Secondly, I often like to turn this question around and ask "Would you be asking me this question if I worked for Facebook, Twitter, Google or Yahoo?" The typical answer is a puzzled "of course not" and when I ask why… they respond with….. "well they aren't involved with adult".
That is a truly naive position.
Lets take a look at the worlds current innovators:
Twitter: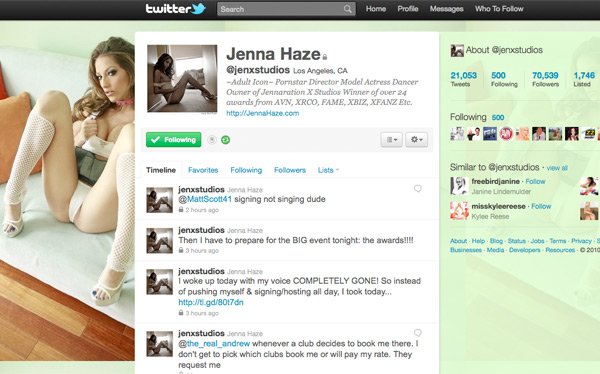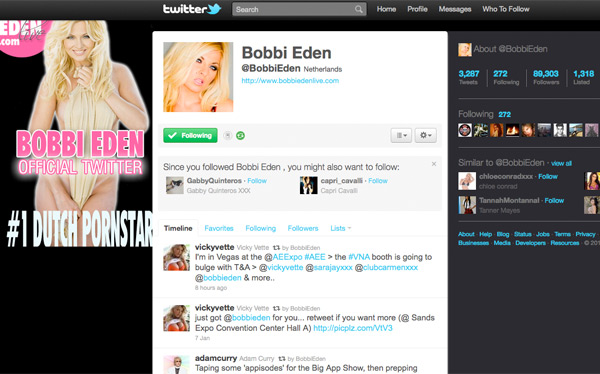 Facebook: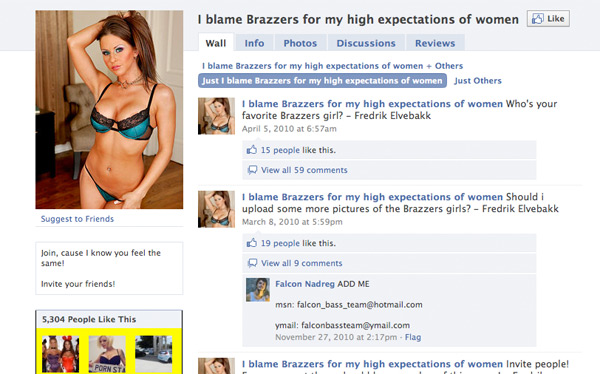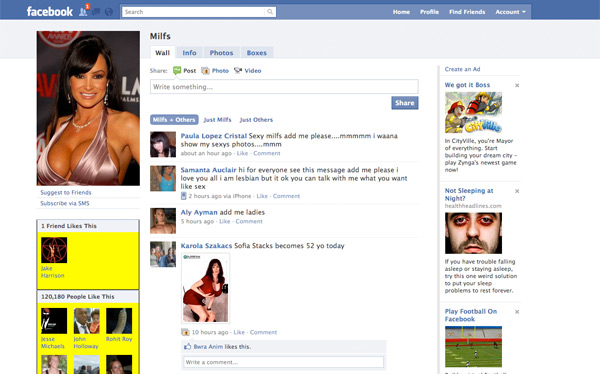 Google: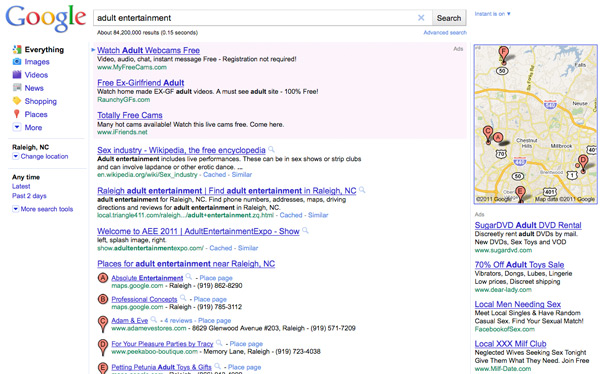 Yahoo!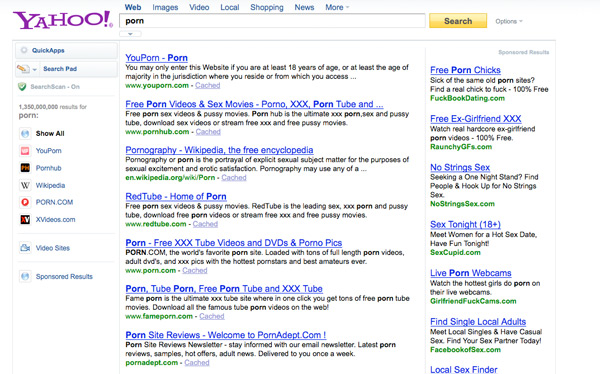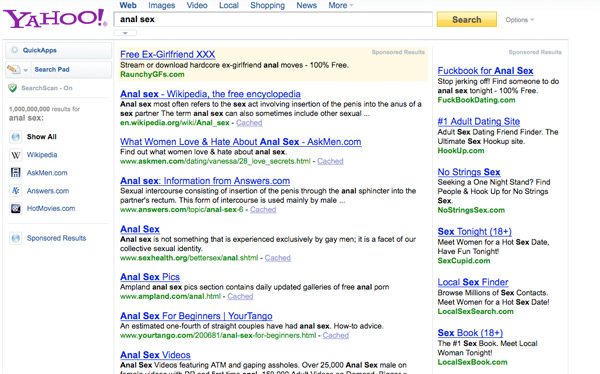 So as you can see from the screencaps above all of these companies use adult entertainment, some even encourage it in order to drive traffic, advertising and ultimately profit. They may not produce adult content but they are certainly profiting from it.
I say "may not" because in the case of Google Images, Facebook's Thumbnails, Yahoo! Images etc, their technology is creating thumbnails for a uniform display and allowing users to choose whether or not they want to see material intended for adults. How is that NOT content production?
And my response to all of that is "kudos."
Like it or not, adult entertainment is a legal, regulated business in the United States. This is a mature position taken by Google, Yahoo etc. Honestly I wish Facebook would take the same mature position and offer people "choice".
So all of this was to address your original question… "Do you think that your experiences with the adult entertainment industry will limit your opportunities in "the mainstream?" and the truth is "possibly". If I were talking with a faith based, non-profit.. they may have issue but then again they may also have issue if I were coming from the company's who produce the lauded video games such as Grand Theft Auto, World of Warcraft or Halo.
TT:
Thanks for reminding me about the original question and to answer yours from the beginning of this interview. My definition of success is closely aligned with Ralph Waldo Emerson's words: "The definition of success: To laugh much; to win respect of intelligent persons and the affections of children; to earn the approbation of honest critics and endure the betrayal of false friends; to appreciate beauty; to find the best in others; to give one's self; to leave the world a little better, whether by a healthy child, a garden patch, or a redeemed social condition.; to have played and laughed with enthusiasm, and sung with exultation; to know even one life has breathed easier because you have lived this is to have succeeded."
From what we have seen and read you have certainly achieved "Success"
CMP:
I'm honestly humbled and accept the kind words.
TT:
Do you see yourself always being an entrepreneur? Or could you work for someone else again?
CMP:
I like to think of myself as a serial entrepreneur. I see challenges and opportunities everywhere. That part of my personality I don't think I am capable of turning off. I am simply wired that way.
As far as working for another company again… sure. I did not start my own business because I believed I was right and someone or everyone else was wrong. I enjoy figuring out solutions to challenges. I enjoy crafting mutually beneficial deals. And remember I truly enjoy working with people. If there is one thing about technology and or running my own company(s) I don't like … it's the isolation.
So absolutely, I could work for someone else again.
I'm only 40, who knows what opportunities the future will bring!
Final Words:
For us this was a refreshingly honest interview. Chris is pleasant, thoughtful and surprisingly transparent. Only the future will tell whether or not the MerchantWho.com project will achieve the financial success Chris anticipates but we feel confident that no matter where he goes or what he does he will make a positive impact. This was the first time we have delved into an entrepreneur's past. If you enjoyed this as much as we did, we'd love to hear from you. And quite frankly if you didn't enjoy hearing the history we would like to know that as well!